KSPS PBS provides on-air, online and multimedia programs that entertain, engage and educate to enrich all the communities we serve.
Each day KSPS PBS invites people in two million households throughout the Inland Northwest and Canada to experience the worlds of science, history and nature; listen to diverse viewpoints and trusted reporting; and take front row seats to world-class performances. KSPS serves Spokane and eastern Washington, northern Idaho, western Montana, southeastern British Columbia, and most of Alberta including Calgary and Edmonton. KSPS is also seen across the nation of Canada on Shaw Direct. KSPS is carried over the air, on translator systems, on cable systems and via satellite. KSPS is licensed to Friends of KSPS. Friends of KSPS is a 501(c)(3) non-profit organization registered in the state of Washington. USA Tax ID Number: 23-7203753
---
KSPS PBS is the Inland Northwest and Alberta's PBS affiliate serving more than 2,350,000 households in eastern Washington, northern Idaho, Alberta, southeastern British Columbia, and beyond. Over 27,000 families in the US and Canada support KSPS each year through their membership contributions, and hundreds of volunteers give over 6,000 volunteer hours.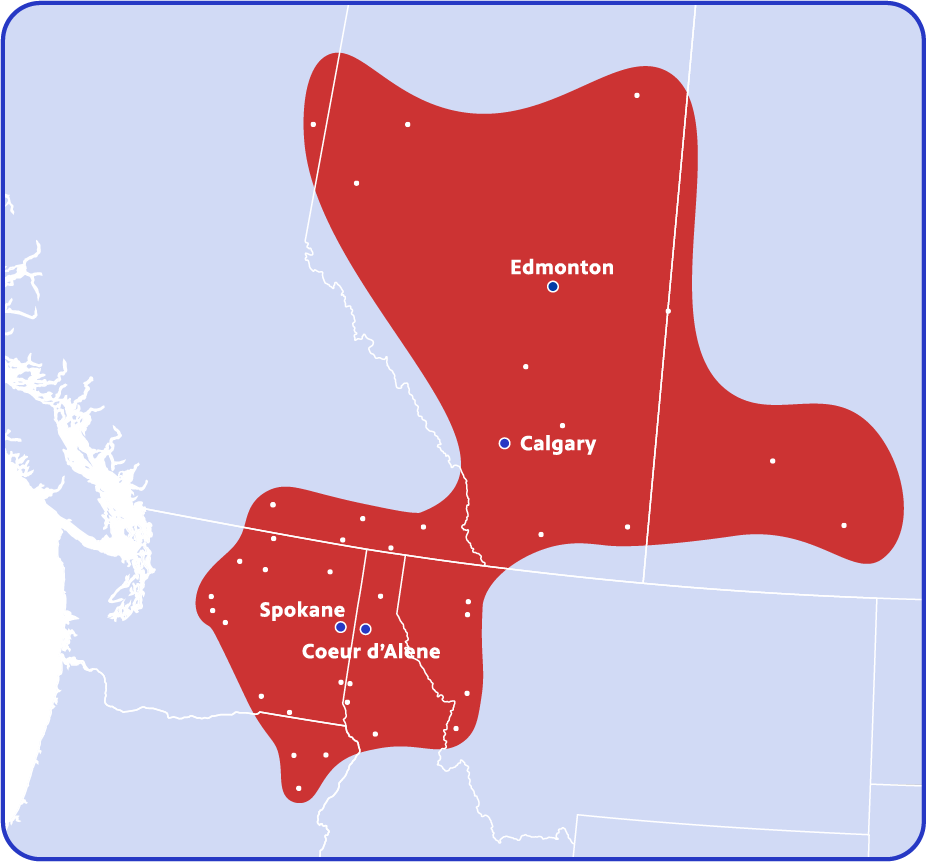 KSPS covers one of the largest designated market areas in the nation.
- Source: Comscore, Nielsen, 2015
KSPS PBS is committed to fostering a culture of diversity and inclusion to maintain a fair, unbiased work environment, and to enhance our ability to effectively serve the public as a media organization. Diversity at KSPS encompasses our differences, including, but not limited to, race, creed, color, national origin, age, sex, affection or sexual orientation, marital status, religion or disability. See our full policy
KSPS Management Team
Gary Stokes, President and General Manager
Dawn Bayman, Station Manager
Skyler Reep, Director of Development
Brook Matson, Education Director
Patiel Bedrosian, Operations Manager
Jim Zimmer, Executive Producer
Jonna Kelley, Promotions and Marketing Manager
KSPS is responsive to the concerns and needs of our viewers. At the same time — in our role as public trust — we embrace our responsibility to provide access to a wide and diverse range of viewpoints. If you ever have questions about our operations or programming content, we encourage you to call or email us.
Contact KSPS
Spokane area:

509-443-7800

Or Toll Free

800-735-2377
KSPS Public Television
3911 S Regal St
Spokane WA 99223

Canada:

800-735-2377
KSPS Public Television
Box 10, 918 16 Ave NW
Calgary AB T2M 0K3
Open Meetings Information
Per the Friends of KSPS Bylaws, all meetings of the Board of Directors, its Committees, the Community Advisory Board, and its Committees, are to be open to the public unless the Board determines the purpose of the meeting is to consider matters relating to:
individual employees,
proprietary information,
litigation and other matters requiring the confidential advice of counsel,
commercial or financial information obtained from a person on a privileged or confidential basis,
the purchase of property or services whenever the premature exposure of such purchase would compromise the business interests of any such organization,
or for such other reasons as permitted by statute.
If a Board or Committee determines the need for a closed meeting, the reason for closing the meeting will be posted on the Agenda for the meeting and/or on ksps.org within 10 days after the meeting. Please contact us to confirm times or to get more information.
KSPS Public Meeting Calendar
Friends of KSPS Board Meeting Schedule
All meetings are at KSPS, 3911 S Regal St, Spokane WA 99223
All meetings are open to the public unless otherwise posted
All meeting dates and times are subject to change
Full Board Meetings are every 2 months, generally on the last Thursday of the odd-numbered months
Executive Committee meetings are every month, generally on the last Thursday
Executive Committee (officers)
4pm PT in the Upstairs Conference Room or via Zoom
Full Board
4:30pm PT in the Main Conference Room or via Zoom
Friends of KSPS Board of Directors
As a non-profit organization, Friends of KSPS is governed by a Board of Directors made up of these community volunteers:
Kristine Meyer

, Chair
Craig Gracyalny, Vice Chair
Kim Lloyd, Treasurer

Beth Pellicciotti

,Secretary
Nikki Kennedy, Edmonton Rep.
James Alexie
Marti D'Agostino
Roberta Brooke

Jessica Deri
Kiantha Duncan
Jon Heideman
Jaye Hopkins

Rosemary Selinger

Gary Stokes,President and KSPS General Manager
KSPS Community Advisory Board
The purpose of the Advisory Board is to provide a vehicle for effective community input to the Friends of KSPS Board of Directors (the station's governing Board) about:
Station programming
Community service initiatives
The impact on the community of the station's major policy decisions
CAB Members
James Albrecht, Chair

Christopher Powell,

Secretary &Edmonton Rep.
Bob Morrison, Calgary Rep.

Patty Crone

Ann Dyer
Shawn Higgins
Marianne Patton
CAB Meetings
Meetings are generally held on the second Thursday of each month at KSPS and are open to the public.