Charitable Gift Annuity
A charitable gift annuity is a simple way to support the future of KSPS in our community and enhance your financial security at the same time.
Here's how it commonly works:
You make a gift of cash and/or appreciated stock to fund a charitable gift annuity for the benefit of KSPS Public Television.
Fixed payments will then be made to you for life and, if desired, for the life of a loved one such as a spouse, partner or sibling.
The amount of the fixed payments will depend on the annuity rate for the age of the person(s) who will receive the payments.
The gift portion of the annuity will become fully available to KSPS Public Television only after the annuity ends.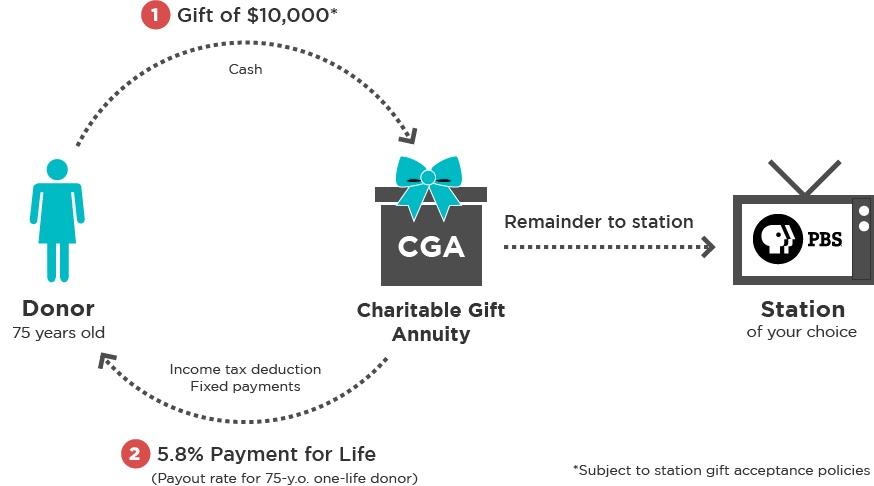 Benefits:
If you itemize deductions on your federal income tax return, you can claim an immediate charitable tax deduction for a portion of your gift.
You will receive fixed payments for life, a portion of which are nontaxable for a period of time.
Your estate may enjoy reduced probate costs and estate tax.
You will have the satisfaction of knowing the impact of your gift will be multiplied when combined with the gifts of others who equally believe in the power of KSPS.
Learning and Planning Resources:
Or for personal support, contact:
Sandra Kernerman, CFRE
509.443.7717
sandrak@ksps.org
Please consult with your professional advisor on the full impact of your charitable giving on you financial and/or legal circumstances.