Charitable Remainder Trust
If you wish to support the Friends of KSPS in a larger way but still wish to retain an interest in your property for your benefit or the benefit of your family, a charitable remainder trust ("CRT") may be a flexible option for you.
Here's how it commonly works:
You make a gift of cash and/or appreciated stock; those funds are then placed in an irrevocable trust.
The trust will then pay you and/or a person you choose regular payments for life or a period of years.
You can select a payout rate that meets your needs and passes certain tax regulations.
You may choose to receive fixed payments (annuity trust) or one that changes with market conditions (unitrust).
Once the trust ends, the remaining assets in the trust will pass on to KSPS and perhaps other charities you decide to name.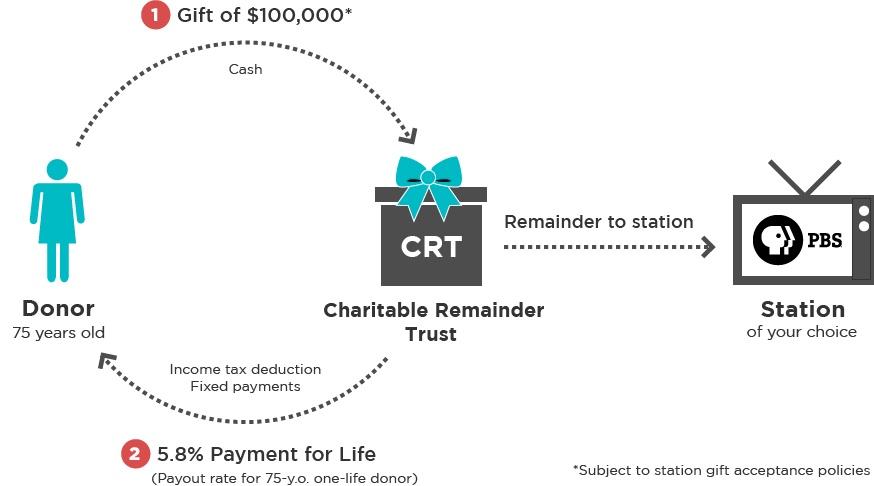 Benefits
You will be allowed an immediate charitable deduction for a portion of the gift if you itemize deductions on federal income tax return.
You will receive annual payments for life, a portion of the payments will be tax free for a period of years.
Your estate may enjoy reduced probate costs and federal estate tax.
You will have the satisfaction of knowing the impact of your gift will be multiplied when it's combined with the gifts of others who equally believe in the power of public television.
Learning and Planning Resources
Or for personal support, contact:
Sandra Kernerman, CFRE
509.443.7717
sandrak@ksps.org
Please consult with your professional advisor on the full impact of your charitable giving on you financial and/or legal circumstances.